2021 Shotgun Discipline
The Shotgun Discipline of the Marion County Shooting Sports Program is open to youth in 4th – 12th grade.
The program is facilitated by Matthew Deist, University of Tennessee Extension Agent. For more information, call (423) 942-2656 or email mdeist@utk.edu.
The current year flyer is available for download below as a .pdf file and is shown in picture form with as two pages as well. The first page is primarily the schedule and the second page is a set of Frequently Asked Question (FAQs) and information for joining the REMIND group.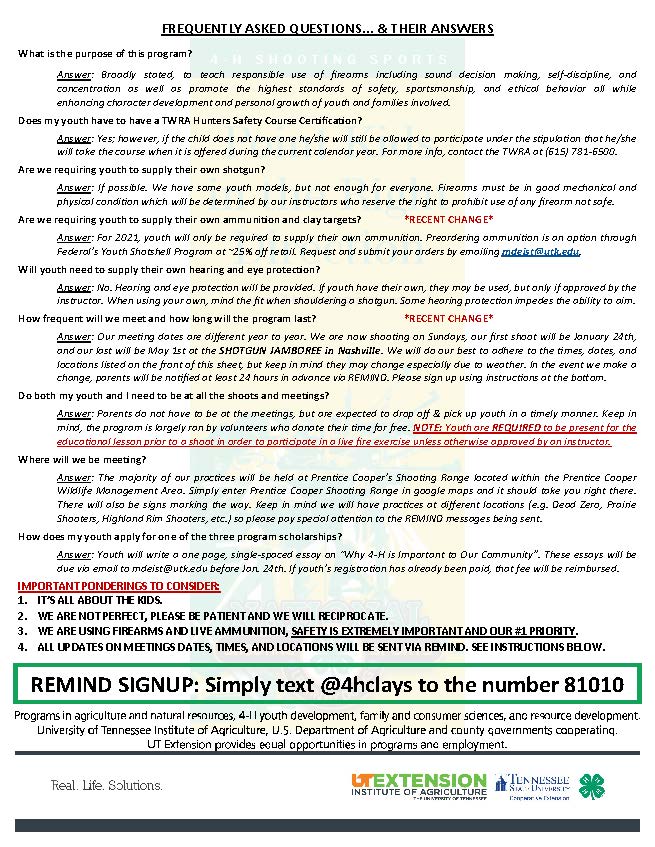 2019 October Archery Signups
The Archery portion of the Marion County Shooting Sports Program is facilitated by Dannie Bradford. For more information contact her at (423) 942-2656 or send an email to: elowrey@utk.edu
Please note: Intro to Archery is offered twice. Youth only need to attend the Oct 14 & 16 class or the Oct 28 & 30 class, not both. Call the office for more information.